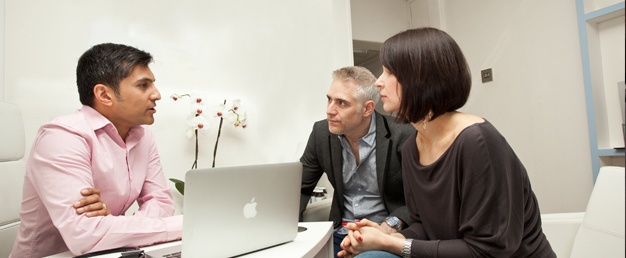 To book an appointment call 07928 346738 (Private Enquiries only)
If you are using private healthcare insurance, most insurance companies require a referral letter from your GP before you attend the appointment with me. You will need to bring details of the insurance company, your policy number and your claim number with you to the appointment. If you are not paying though an insurance company, please contact me and I'll explain the costs. Most new consultations will be for 45 minutes, but some will require a minimum of an hour because of their complexity.
Private Appointments – General Paediatric
I consult regularly at:
Edgbaston Private Medical Practice
44 George Rd
Birmingham
B15 1PL
Appointments: 07928 346738 (Private Appointment enquiries only)
www.epmpractice.co.uk/
Click here for map
NHS Appointments
If you are an NHS patient and would like to be referred through the NHS, you can contact my secretary below to get more information on how your GP can refer you:
City Hospital (Allergy)
Dudley Road
Birmingham
B18 7QH
Appointment queries please call our contact centre on 0121 507 4151
Secretary – Trudy Price: 0121 5073173
Sandwell General Hospital (General, Allergy and Infectious Disease)
Lyndon
West Bromwich
B71 4HJ
Appointment queries please call our contact centre on 0121 507 4151
Secretary – Trudy Price: 0121 5073173
Please arrive in good time so that any paperwork can be done and others aren't kept waiting. Please see information above but in addition please bring any fresh fruit or vegetable to which you think your child is allergic and any other foodstuffs EXCEPT for nuts, sesame, wheat, egg, milk and all airborne allergens such as grass and dust which are provided. We skin prick test in almost all children as it is virtually painless and you can get the results in clinic. Please tell your children that it does not involve any needles. Children must be off their antihistamines for 48hours (for piriton) and 4 days for all others before skin prick testing. This is essential. If their symptoms are such that they simply can't come off or if they have needed an emergency rescue dose then a blood test will be done instead. The results of this are not immediately available.
Dr Makwana has really helped and reassured me with my child treatments and overall he is a fantastic doctor
Patient's Parent
Why Choose Me?
You can click below to find out more about me, my passion towards my work, or even my achievements.