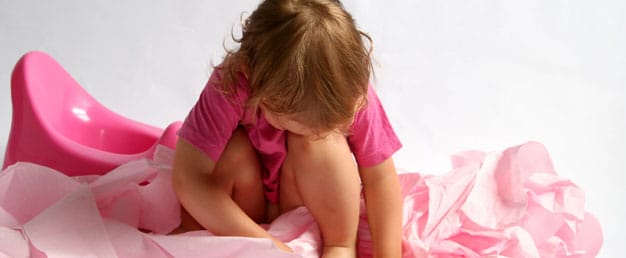 Constipation is a common presentation in my General Paediatric Clinic. It is usually due to a wide range of causes, such as not eating well, not drinking enough and worrying. It is rarely due to a significant bowel problem.
It is often due to a diet poor in fibre and / or fluid but it is still commonly seen in children who are good eaters. There is a huge variation in what people consider to be normal pooing. When decreased bowel movements are associated with symptoms such as pain on pooing, poor appetite, tummy pain, excessive straining, blood in the nappy, or on wiping then constipation has reached a point where action needs to be taken.
Treating with laxatives alone rarely works long term. The child becomes scared of going to the toilet, and this worsens the problem. Gentle medications together with recommended changes in lifestyle, as well as careful behavioural management teaches a child, whatever their age, to understand what is happening to them so that they feel more in control.
I will look for the cause of the constipation, as well as treating it where necessary with appropriate medications. I will discuss any dietary changes necessary and give you a programme on how to implement them.
Dr Makwana has really helped and reassured me with my child treatments and overall he is a fantastic doctor
Patient's Parent
Why Choose Me?
You can click below to find out more about me, my passion towards my work, or even my achievements.