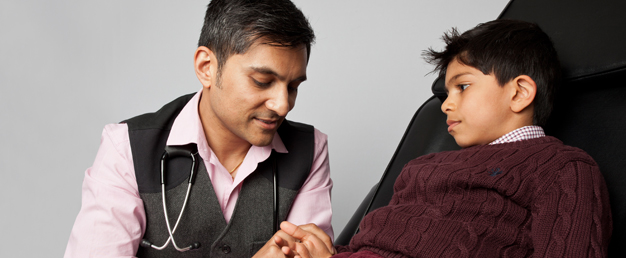 Being both a father to two teenage children and a practising paediatrician with an interest in allergy, I am acutely aware that, as parents, we do worry about our children's health and wellbeing. This may be because there is a particular concern or, at other times, because we want peace of mind that our child is healthy, happy and able to achieve their best.
"We were so glad we opted to see Dr Makwana, he answered all our concerns, was great with our child and so reassuring to know there is an option to waiting five months on the NHS"

"Very pleasant. Good bedside manner"

"Very happy with Dr Makwana, he talks to both my son and me, listens to us, very positive about my son's progress"

"Demonstrates empathy for patient and delivers clear, easy to follow advice"

"He understood my allergy"

"Very happy with care given, thank you!"

"Dr Makwana is a outstanding doctor. Many thanks for your ongoing support. You make our visit worthwhile"

"It was like you waved a magic wand and things were better"

"Thank you Dr Makwana for never giving up till you found a treatment that worked for us"

"It was the first time she went through a whole school performance without having to leave because of running nose or appearance of an allergic rash"

"It was the first time someone believed us and the advice you gave made such a difference – he is getting on really well at school"

"Not only did your explanation of how to use a nose spray help our son, it sorted out why my husband's hayfever hadn't been controlled for so many years, so he thanks you as well!"

"Very clear, friendly approach"

"If returning to area would recommend seeing this doctor again"

"Dr Makwana has really helped and reassured me with my childs treatment and overall he is a fantastic doctor"

"Me and my daughter are very thankful to him. Thank you"

"The consultant was really good, polite and explained everything. He was thourough and informative. thank you"

"Excellent all round, friendly service, very well informed. excellent doctor"

"Very keen and interested in allergies. asset to the hospital"

"The doctor was very helpful, patient and explained everything clearly. he was easy to talk to and gave us enough time to discuss"

"Very satisfied with the consultation"

"I am very happy how the doctor looked after us and explain everything to us"

"Dr Makwana was lovely, he went into detail and made me feel at ease"

"Dr Nick Makwana was absolutely brilliant. We had sought advice previously about my childrens allergies but no one has explained in such detail her condition. His gentle and calming approach really put my children at ease and I can't thank him enough. He took time in explaining the results to us in a way we could understand and gave us excellent follow up advice and care. His team were also very friendly, efficient and professional. I would definitely recommend his services. Thank you"

"Dr Makwana was extremely professional and helpful. My son is only 4 years old so naturally he was apprehensive but Dr Makwana made him feel really comfortable. He was very knowledgeable too which was reassuring."

"I saw Nick Makwana initially for my son when he was just 17 weeks old. As parents we were concerned that our son had CMPA. At our first consultation Nick Makwana listen to our history carefully, and tested and diagnosed our son with CMPA. We were given a detailed plan of management and early weaning advice. Since then Nick has continued to see him regularly for various conditions and again we have an excellent management plan. Nick is always willing to listen to our concerns both as parents and doctors, and has an excellent bedside manner. I would highly recommend his services."

"Dr Makwana was very helpful and understanding. He took the time to really understand our daughter, her history and impact of her symptoms. He made her and us feel comfortable and explained matters in a way she could understand."

"Dr Makwana was incredibly thorough, asking lots of questions and I really felt he was thinking about all possibilities. He then went on to go over it all and really explain his thinking which I found really helpful. On top of all that he was very friendly and not only put me at ease but most importantly made my son feel comfortable. I would highly recommend him and wouldn't hesitate in going back to him should we ever need to."

"My son has had health problems from the age of two but nobody could get to the bottom of what was wrong. He'd been struggling for years and I was at my wits end with worry until we saw Dr Makwana. Dr Makwana told my son and I that he would help him and promised not to discharge him until he was better. He stuck to his promise and my son is now managing his conditions and allergies thanks to Dr Makwana. The difference in hun is remarkable, he's gone from barely ever being well to barely ever being ill. I can not thank Dr Makwana enough, he has always listened, helped and treated my son with dignity and respect and I would recommend him a million times over!"

"Dr Makwana really listened and paid attention to our concerns. He was able to push through exams and testing that needed to be done very swiftly and referred us on as needed. We are very pleased with our visit and the follow up care."

"Dr Makwana really helped with my sons allergies (delayed CMPA, legumes and eczema) and reduced my anxiety regarding weaning and my son having an anaphylactic reaction."

"We would highly recommend Nick to anyone. We visited Nick in order for our son to be seen for his allergies/eczema. Nick was professional throughout and explained every detail for us to fully understand. We came away over the moon that our son was finally on the path to getting sorted. Thanks again Nick"

"We had great experiance with Dr. Nick Makwana. Highly recommended if you need a good paediatrician. Deep and wide knowledge, if compared to usual NHS GP service with baby he would be above any of them."
Why Choose Me?
You can click below to find out more about me, my passion towards my work, or even my achievements.